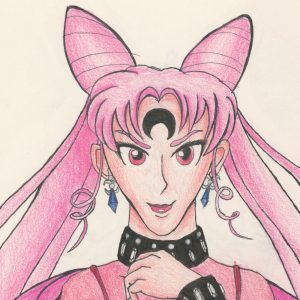 Biography
Lindsey Gloway is a 2020 graduate at Rutgers University, located in Camden, New Jersey, earning a major in animation. A New Jersey local herself, she has spent the past few years learning multiple technics in 2D and 3D animation and art. These range from modeling, rigging, photography, photo editing, and drawing. Lindsey has earned her Associates in Arts at Cumberland County College. Here she was introduced to digital graphic design programs such as Photoshop, Illustrator, and InDesign, while also honing her drawing skills with pencils and charcoal.

Despite learning much about digital art and animation, Lindsey Gloway has always held a strong presence in the field of classically styled animation. With the aid of a light table and the Toon Boom Harmony software, she has been able to bring her drawings to life in a digital world. Even so, she has been practicing her modeling skills with Maya and ZBrush, becoming relatively fluid in both as a result. Lindsey has always been fascinated with the beautiful and vibrant animated movies that the Walt Disney company releases, but her passion came when she discovered shorts and series created and released on YouTube by individual people.
Statement
I have always loved how animation, be it cartoony or realistic, can be stretched to the end of believability while still keeping itself grounded in its own world of reality. A world can be as mystical or hopeless as anyone can make it, but it's kept grounded with characters and stories that challenge and expand the mind. That what drove me to want to be involved in a medium that holds countless possibilities. Every story ever told holds some kind of philosophy that's just waiting to be explored and not one is ever really the same. Whenever a person creates a new world with its own cast of unique characters, it can easily be a gateway into the creator's own psyche. I want my animations to be a way to express my thoughts as well as a way to teach others that the world works in different ways to different people.
The main point that I always like to bring out the concept of darkness. Such a concept is possible to get across, but because of how difficult some people can handle such a topic it can come across as too scary or too controversial. That's why it needs to be properly balanced so that it's easier to understand and not as shocking. Darkness is inescapable and can affect anyone at any age, and there are people who can't handle the strain as well as others. That's why it's important to expose people, even children, to the heavier aspects of the world. Disney has been doing this with their animated movies ever since its founding, and still continue to do so to this day. I want my animations to show that it's ok to have darkness in your life, and it's ok to be afraid of it. There is always someone who can help you understand and cope with those dark times.