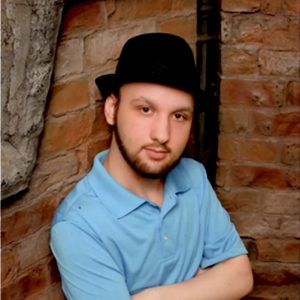 Statement
Ever since I was a kid growing up, I loved animation, especially tv shows like Dexter's Lab and SpongeBob.  But it wasn't until I became a middle school student that I decided to pursue a career in animation.  This was when I received a UCreate webcam from my Mom for Christmas…. I never used it for its intended purpose for making photo-based gif animations and customizable pinball tables.  Instead, I grabbed some playdough I had laying around and made my own stop-motion films. From there, my grandpa bought me my own PC so I can learn CGI animation so I would not bother my family when I needed to use the only PC in our home.  Having a PC, I learned to create CGI models using a free program called "3D Wings"; and I learned a basic 2D animation program called "Stykz" as well.
Even though I was still developing my art skills, my spark for creativity and my passion for animation was still there. After binge watching "Superman: The Animated Series" and "Duck Dodgers 2003", I became motivated to focus on my art style. While watching both shows, I would sketch the characters I liked over and over again on a piece of paper. I was horrible at drawing men, but I was pretty talented at drawing women. I'd say my art style is loosely based around Bruce Timm's DC animated shows and the general Warner Bros. property art styles (from Hana Barbera to Looney Tunes to early cartoon network).
Like the animated TV series, The Simpsons, my thesis project is a short-animated segment which will later be used as an introduction to expand further in a future episode with a different storyline but will incorporate the same set of characters.   My thesis, "Singed & Stitched:  Part of Project Fell" is about Betty Cronsworth, a young, aspiring scientist, who creates a necklace that manipulates the fabric of her dress to do her will.    Betty uses her necklace to morph the fabric into a bird to grab a microchip from a store for her latest invention.  I plan on writing, illustrating, and animating more scenes to this story in the future.  Therefore, the story wasn't my main focus, but rather to introduce a set cast of characters and provide some jokes along the way for your entertainment.
 The idea for my thesis project "Singed & Stitched:  Part of Project Fell" came to me while I was modeling in Zbrush for my Computer Animation II class. It was my first time using Zbrush and the only thing I was able to model that day was a sack creature.  I actually designed the creature by sculpting random lines together on a CGI model until an interesting creature emerged.  It looked like a sack creature with a scuba diving mask to me.  This was the best I can do at the time, but I actually liked the result, so it became my inspiration for my thesis project.  I initially developed a storyline using this creature as a servant to a witch; but as the story evolved, I changed the witch character into a scientist similar to Dr. Frankenstein.  I felt that a scientific spin was a better choice for a storyline.
Because I was having trouble sculpting additional characters in Zbrush, I decided that the main character will be a 2D character, the sack creature will be a CGI rigged character, and my backgrounds will be in CGI too.   However, my plans changed again because I couldn't render my smoke effects for the sack creature's backpack properly.  Thus, I found myself unable to create what I wanted as a result from the limited knowledge I had of Maya at the time.